This pumpkin spice muffin sports just a little cream cheese in the center and a wonderfully sweet, crunchy crumb topping.  Perfect warm out of the oven on a cool fall morning!
Prepare Pans:  Heat oven to 350 degrees F.  Line 24 muffin tins with cupcake papers and set aside.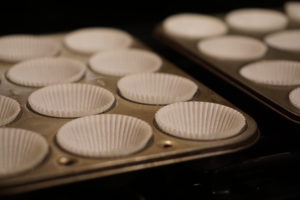 Filling:  Beat the cream cheese, egg, and sugar with an electric mixer until smooth.  Place in the refrigerator until muffin batter is ready.
Streusel topping:  Toss the sugar, flour, toasted pecans, melted butter, and cinnamon together in a medium bowl and set aside.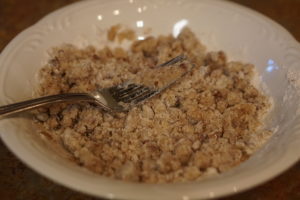 Batter:  Combine sugar, flour, salt, baking powder, baking soda, cinnamon, and  pumpkin pie spice in a large bowl and whisk until combined. In a separate bowl, lightly beat the eggs, pumpkin, oil, and vanilla together.  Combine the egg mixture with the dry mixture and mix with a whisk or wooden spoon until smooth.
Evenly divide half of the batter among the muffin cups.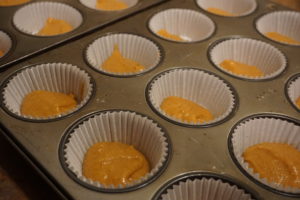 Place two teaspoonfuls of cream cheese filling in the center of each cup and top with the remaining pumpkin batter.
Sprinkle the streusel mixture over the top of each muffin.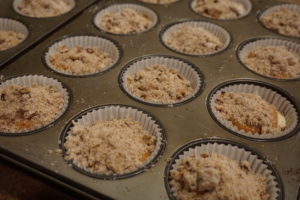 Bake:  Bake at 350 degrees F. until golden and a tester, inserted into the muffin center, comes out clean — 20 to 25 minutes. Cool on wire racks.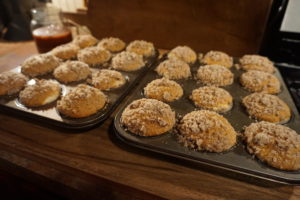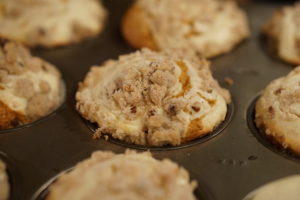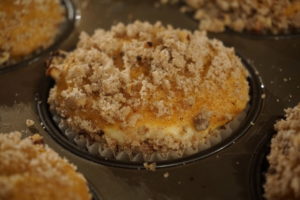 Pumpkin Cream Cheese Muffins
Recipe type:
<g class="gr_ gr_69 gr-alert gr_gramm gr_inline_cards gr_run_anim Grammar multiReplace" id="69" data-gr-id="69">Breads</g> and Muffins
Prep time:
Cook time:
Total time:
Ingredients
Cream Cheese Filling
8 oz. cream cheese
1 egg
3 Tablespoons sugar
Streusel Topping
5 T sugar
½ cup flour
¼ cup toasted chopped pecans (toast in a dry skillet on the stovetop or in the oven on a baking sheet)
1 tsp. cinnamon
3 Tablespoons butter, melted
Muffin
2 c. sugar
2 c. flour
2 tsp. cinnamon
2 tsp. pumpkin pie spice
½ tsp. salt
2 tsp. baking powder
¼ tsp. baking soda
1¼ c. solid-packed pumpkin
⅓ c. vegetable oil
2 eggs
1 tsp. vanilla extract
Instructions
Heat oven to 350 degrees F. Line 24 muffin tins with cupcake papers and set aside.
Beat the cream cheese, egg, and sugar with an electric mixer until smooth. Place in the refrigerator until muffin batter is ready.
Toss the sugar, flour, toasted pecans, butter, and cinnamon together in a medium bowl and set aside.
Combine sugar, flour, salt, baking powder, baking soda, cinnamon, and pumpkin pie spice in a large bowl and whisk until combined. In a separate bowl, lightly beat the eggs, pumpkin, oil, and vanilla together. Combine the egg mixture with the dry mixture and mix with a whisk or wooden spoon until smooth.
Evenly divide half of the batter among the muffin cups.
Place two teaspoonfuls of cream cheese filling in the center of each cup and top with the remaining pumpkin batter.
Sprinkle the streusel mixture over the top of each muffin.
Bake at 350 degrees F. until golden and a tester, inserted into the muffin center, comes out clean -- 20 to 25 minutes. Cool on wire racks.
Adapted from Country Living Magazine