For my sister, Sharon, with love.
A classic in Texas, the Texas Sheet Cake is a dark, fudgy chocolate buttermilk cake topped with a pour-on fudge frosting and chopped roasted pecans.  If you are not a fan of nuts, it is just as good without the nuts.   The cake is baked and frosted in one 9 x  13″ pan…simple!  If you don't have buttermilk handy, you can add one tablespoon white vinegar to one cup of whole milk.  Let the milk sit a few minutes until it thickens and use in place of buttermilk.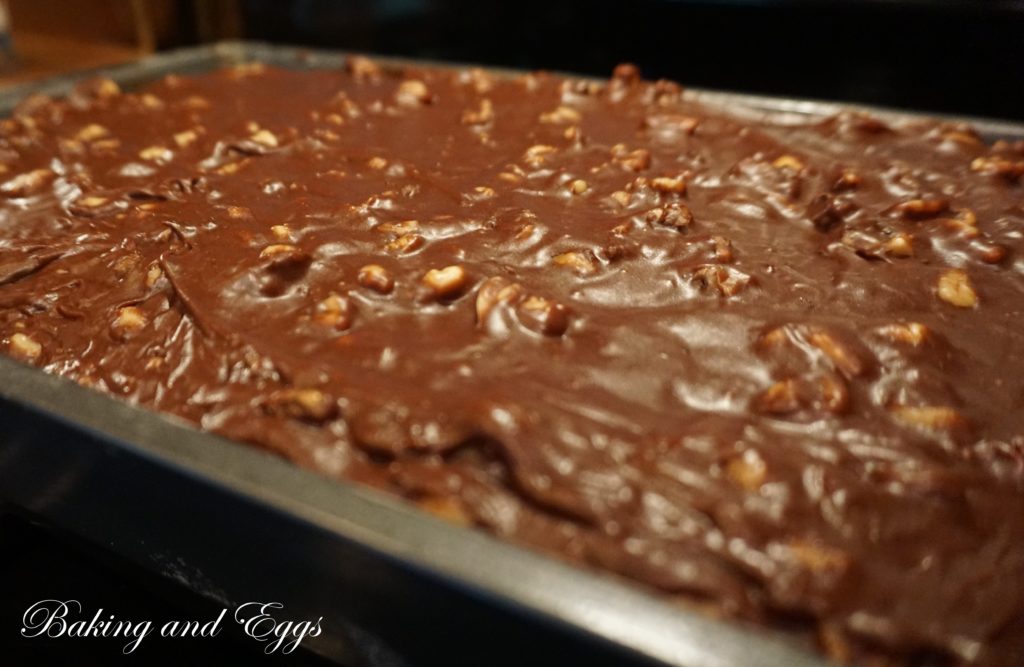 Texas Sheet Cake
Prep time:
Cook time:
Total time:
Ingredients
1 cup unsalted butter, melted
⅔ cup water
½ heaping cup cocoa
2 cups all purpose flour
2 cups granulated sugar
1 teaspoon salt
2 large eggs, beaten lightly
1 cup buttermilk
2 teaspoons vanilla extract
1 heaping teaspoon baking soda
Icing:
½ cup unsalted butter
3 heaping tablespoons cocoa
3 Tablespoons Half and Half
2 cups powdered sugar
½ to 1 cup chopped pecans, toasted
1 teaspoon vanilla extract
Instructions
Preheat the oven to 350 degrees F. Grease and flour a 9 x 13" pan.
Toast the chopped nuts in a dry skillet until lightly toasted and aromatic.
Melt the butter in a microwave safe bowl. Add the water and cocoa, stirring well. Sift together the flour, sugar, and salt, and stir them into the chocolate mixture. In a large bowl, combine the eggs, buttermilk, vanilla, and baking soda. Add this mixture to the chocolate mixture and stir well.
Pour the cake into a prepared pan and bake at 350 degrees F for approximately 40 minutes or until a toothpick inserted in the middle comes out clean.
As the cake cools, make the icing. Melt the butter with the cocoa in a microwave safe bowl. Add the Half and Half, stir, and heat for about 30 seconds longer. Mix in remaining ingredients, blending well. Pour the icing over the cake in its pan while both are still warm.
Serve the cake warm or at room temperature.