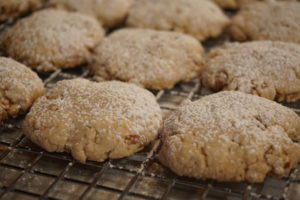 Pecan Sandies.  A melt-in-your-mouth shortbread cookie that is far better than its store-bought counterpart.  These cookies have only four ingredients and are a cinch to make up.  The dough can be made in advance, shaped into balls, and frozen for another time when you need a quick dessert.  Just take them out of the freezer and bake!  This cookie always disappears very quickly around my house.  You do not need to be an experienced baker to master these little gems.
Preheat oven to 325 degrees.  Toss the flour and pecans in a medium bowl.
Place the butter in the bowl of a stand mixer fitted with the paddle attachment and mix on medium-low speed until smooth. Add the powdered sugar and mix for about 2 minutes until fluffy. Scrape down the sides and bottom of the bowl. Add the flour mixture and mix on low speed for about 30 seconds, until just combined. Scrape the bottom of the bowl to incorporate any dry ingredients that have settled there.  The dough will be crumbly.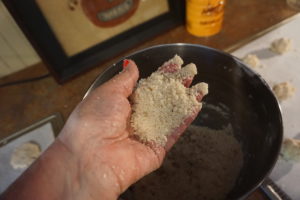 Divide the dough into 1 1/2 tablespoon portions (30 grams); roll into balls and arrange on a baking sheet lined with either parchment paper or a Silpat. Leave about 1 1/2 inches between balls.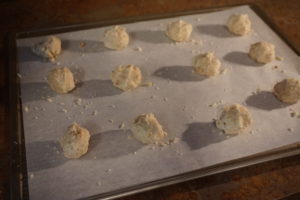 Flatten the balls into 2″ disks.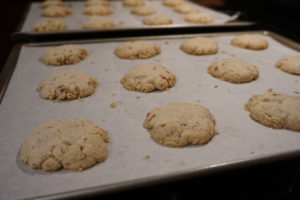 Bake until pale golden brown, 15 – 18 minutes. Let stand 5 minutes and transfer to a wire rack to continue cooling. If desired, dust with powdered sugar.  Cookies can be stored in a covered container for up to 3 days.
Pecan Sandies
Recipe type:
Desserts - Cookies
Prep time:
Cook time:
Total time:
Ingredients
1¾ cups + 1½ teaspoons all-purpose flour (250 grams)
¾ cup coarsely chopped pecans (80 grams)
6 ounces unsalted butter, room temperature (1½ sticks) (170 grams)
¾ cup + 1¾ teaspoons powdered sugar
Instructions
Preheat oven to 325 degrees.
Toss the flour and pecans in a medium bowl.
Place the butter in the bowl of a stand mixer fitted with the paddle attachment and mix on medium-low speed until smooth. Add the powdered sugar and mix for about 2 minutes until fluffy. Scrape down the sides and bottom of the bowl. Add the flour mixture and mix on low speed for about 30 seconds, until just combined. Scrape the bottom of the bowl to incorporate any dry ingredients that have settled there.
Divide the dough into 1½ tablespoon portions (30 grams); roll into balls and arrange on a baking sheet lined with either parchment paper or a Silpat. Leave about 1½ inches between balls. Flatten the balls into 2" disks.
Bake until pale golden brown, 15 - 18 minutes. Let stand 5 minutes and transfer to a wire rack to continue cooling. If desired, dust with powdered sugar.
Cookies can be stored in a covered container for up to 3 days.
Recipe from Bouchon Bakery Cookbook