Shortbread is a biscuit or cookie and is traditionally made with three ingredients: Butter, sugar, and flour. While there are many variations on this classic (types of flour, types of sugar, flavorings, etc.), I like this simple recipe that adds a hint of vanilla.
Gather ingredients. Spray either a Shortbread mold or a 8 or 9″ square or round baking pan with vegetable or butter baking spray.  Set aside.
Place one stick of unsalted butter into a mixing bowl and beat until light and fluffy. Add 1/3 cup powdered sugar.
Add 1/4 teaspoon pure vanilla extract. Add one cup of flour and mix by hand until the dough comes together and is smooth.
Press the dough into the desired pan and prick the top with a fork.
Bake at 325 degrees for 30 to 35 minutes or until lightly browned around the edges. Remove the pan from the oven and let sit for 10 minutes.  Invert the cookie onto a wooden cutting board and cut into slices, squares, or wedges while still warm.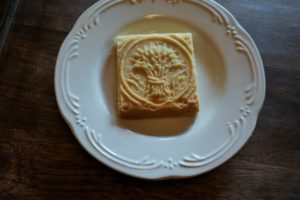 Shortbread II
Prep time:
Cook time:
Total time:
Ingredients
½ cup unsalted butter, room temperature
⅓ cup powdered sugar
¼ teaspoon vanilla (optional)
1 cup flour (unsifted)
Instructions
Cream the butter until fluffy. Add the powdered sugar and then the vanilla and mix until blended. Remove the mixer from the stand and add in the flour. Mix by hand until the dough comes together and is smooth. Spray the pan with a non-stick vegetable or butter oil spray. Firmly press the dough into the pan. Prick the entire surface with a fork. Bake at 325 for 30 to 35 minutes or untuil the edges are lightly browned. Let the cookie cool in the pan for 10 minutes and invert onto a wooden cutting board. If the Shortbread does not come right out, loosen the edges with a knife and flip again, gently tapping the pan. Cut into desired shapes while still warm.