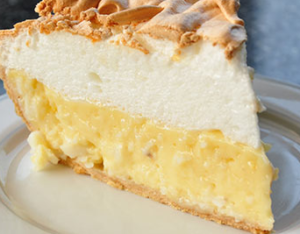 Coconut Cream Pie is a classic.  A thick, rich, creamy coconut custard filling topped with either meringue or billowy mounds of whipped cream, this pie always makes a great impression! This pie is different from a Coconut Custard Pie which is more custard-like and does not get a topping.  When people eat this pie, they always claim it is the best they've ever tasted!  It's the best I've ever tasted! It's a little work, but completely worth the effort!  Click here for my homemade pie crust.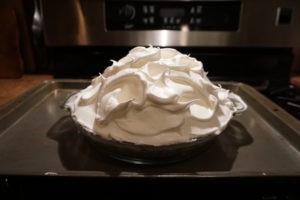 Coconut Cream Pie
Prep time:
Cook time:
Total time:
Ingredients
One recipe for sweet butter pie crust (or a pre-made frozen 9" pie crust)
http://bakingandeggs.com/2015/03/02/pie-crust-101/
For the pie filling:
1½ cups heavy whipping cream
1¼ cups whole milk
¾ cup sugar
6 Tablespoons cornstarch
2 large egg yolks
2 teaspoons vanilla extract
2 cups shredded coconut
Meringue Topping
5 large egg whites, at room temperature
½ cup sugar
½ teaspoon cream of tartar
1 teaspoon vanilla extract
Instructions
Make the pie crust, bake, and cool.
Scald the cream and ½ cup of the milk with the sugar in a heavy medium-size saucepan over low heat. Stir occasionally to dissolve sugar. Dissolve the cornstarch in the remaining ¾ cups of milk and stir. Whisk in the egg yolks.
Gradually add ½ cup of the hot cream mixture to the yolks while whisking vigorously. Whisk this mixture into the remaining scalded cream and cook, whisking constantly over low heat until custard thickens - 5 to 6 minutes. Stir all but 3 Tablespoons of the coconut into the custard. Place a piece of plastic wrap directly on the surface of the custard and puncture the wrap in several places so that steam can escape. Cool for 30 minutes to 1 hour at room temperature, stirring occasionally. Scoop the custard into the pie shell and smooth. Top with meringue or whipped cream.
For the meringue, with an electric mixer on high speed, beat the egg whites until frothy. Add the cream of tartar and continue to beat while slowly adding the sugar, 1 tablespoon at a time, beating until stiff peaks form and sugar is dissolved (2 to 4 minutes total). Add ½ teaspoon vanilla and beat in. Spread the meringue over entire pie, making sure the edges are completely sealed to prevent shrinkage. Sprinke remaining 3 Tablespoons cocounut on top of the meringue and bake pie at 325 degrees for 25 to 28 minutes.