I think of Coffee Cake as comfort food of the dessert world.  Warm out of the oven with a tall glass of milk, it's reminiscent of grandmom's house.  Don't let the name fool you, coffee cake does not have coffee in it.  Coffee cake is traditionally served with coffee, like tea-cakes are served at tea-time, when getting together with friends for coffee.   Coffee cakes are a light, buttery yellow cake, usually flavored with cinnamon and made or topped with nuts, raisins, fruit, etc.  Some are glazed with a sugar/milk glaze.  The origin of coffee cake is between 1875 and 1880.   This is an easy-to-make recipe that you can whip up relatively quickly since most of the ingredients are stock items in your pantry/fridge.  There's not a lot to it – just a moist butter cake topped with a crunchy brown sugar, butter, cinnamon, and nut streusel topping.  One of my favorites!
Preheat the oven to  350 degrees and grease a 9 x 13 inch pan with a generous amount of butter.
Mix the topping:  Stir the flour, cinnamon, and sugar together in a bowl.  Add the butter with a pastry blender or fork and cut into the dry ingredients until the mixture resembles coarse meal. Do not over mix. Stir in the nuts and set aside.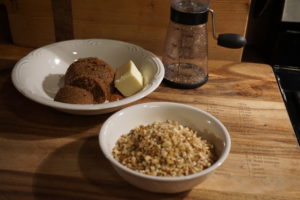 Stir together the flour, baking soda, baking powder, and salt and set aside.  Cream the butter until soft; add the sugar and beat until light and fluffy (about one minute).  Add the eggs, one at a time, beating until thoroughly incorporated after each addition.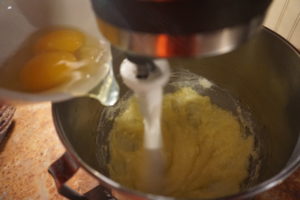 On low speed, add the sifted dry ingredients in three additions alternating with the sour cream in two additions beating only until incorporated after each addition.  Remove the mixer from the stand and fold in the raisins and mix by hand.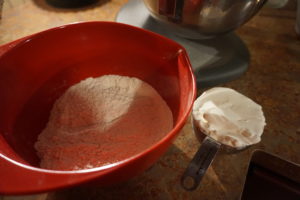 Turn the cake into the prepared pan and smooth the top.  Sprinkle the prepared topping loosely and evenly all over the cake.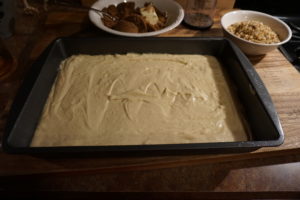 Bake for 30 to 35 minutes or until a toothpick inserted in the center of the cake comes out clean.  Serve warm or at room temperature.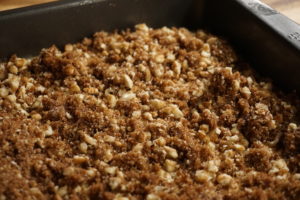 Sour Cream Coffee Cake
Prep time:
Cook time:
Total time:
Ingredients
Topping:
1 tablespoon all-purpose flour
1¼ teaspoons cinnamon
¾ cup dark or light brown sugar, firmly packed
3 tablespoons firm butter, cut into ½ inch squares
1 cup chopped pecans or walnuts
Cake:
2 cups sifted all-purpose flour
1 teaspoon baking power
1 teaspoon baking soda
¼ teaspoon salt
1 stick unsalted butter, room temperature
1 cup granulated sugar
3 large eggs, room temperature
1 cup sour cream
½ cup raisins (optional)
Instructions
Preheat the oven to 350 degrees. Generously butter a 13 x 9 inch metal baking pan.
Make the topping: Stir the flour, cinnamon, and sugar together in a bowl. Add the chopped butter with a pastry blender or fork and cut into the dry ingredients until the mixture resembles coarse meal. Do not over mix. You can do this step with your hands, just don't over mix; a few slightly larger pieces of butter should remain. Stir in the nuts. Set aside.
In a small bowl, mix together the flour, baking power, baking soda, and salt and set aside. In a large bowl of an electric mixer, cream the butter until soft. Add the sugar and mix until light and fluffy, about a minute. On low speed, add the eggs, one at a time and mix until blended. Scrape bowl with a rubber spatula and mix until completely blended. On low speed, add the sifted dry ingredients in three additions alternating with the sour cream in two additions, beating only until incorporated after each addition. Fold in the raisins (if desired) by hand and stir with a spoon or spatula.
Turn into the prepared pan and smooth the top. Sprinkle the topping loosely and evenly over the top of the batter. Bake for 30 to 35 minutes or until a toothpick inserted in the center of the cake comes out clean.
Recipe adapted f rom Maida Heatter's Cakes