Sables are a French cookie with a delicate, sandy texture.  Their American counterpart would be something similar to Sandies.  This cookie uses both unsweetened cocoa powder and bittersweet chocolate which yields a very intense, complex chocolate taste.  The sandy texture comes from a dry mixture that you bring together to form into desired shapes; the dough is not at all "doughy", but is rather crumbly.  This recipe comes from the San Francisco pastry shop, Miette.
Gather all ingredients.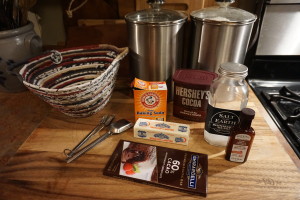 Sift together the flour, cocoa powder, and baking soda into a bowl and set aside.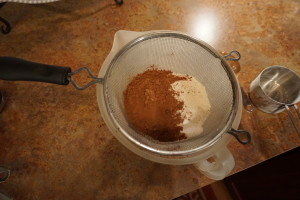 Grate the chocolate.  You can also pulse the chocolate in a food processor until smooth.  I took the lazy approach here (because I didn't want to wash the food processor) and opted to  chop finely with a knife.  It would have been easier and quicker to process in the food processor!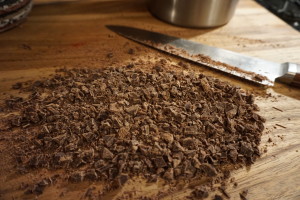 In the bowl of a stand mixer fitted with the paddle attachment, beat together the butter, sugar, salt, and vanilla until lightened, about 4 minutes.
Add the dry ingredients and the grated chocolate and mix just to combine.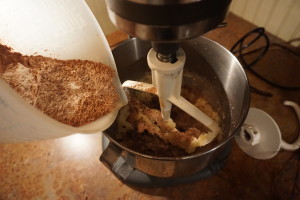 Finish combining the dough by hand and shape into two logs, wrap in plastic wrap and freeze until firm.  Preheat the oven to 350 degrees.  Using a sharp knife, slice the cookies into 1/4″ slices and place on parchment lined baking sheets 2″ apart.   Sprinkle lightly with sugar.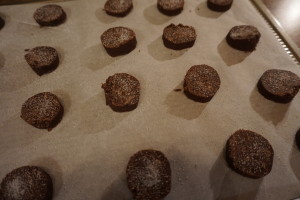 Bake 10- 12 minutes or  until firm.  Cool on wire racks.  Store in an airtight container for up to two weeks.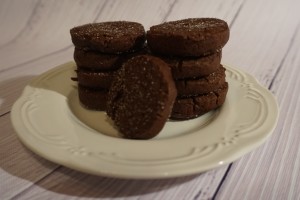 Chocolate Sables
Prep time:
Cook time:
Total time:
Serves:
24 two inch cookies
A delicate chocolate French cookie with a sandy texture that is not overly sweet.
Ingredients
1 cup all-purpose flour
⅓ cup natural unsweetened cocoa powder*
½ teaspoon baking soda
½ cup (one stick) unsalted butter, at room temperature
⅔ cup sugar (plus more for sprinkling)
¼ teaspoon salt
¾ teaspoon vanilla extract
3½ ounces 70 percent cacao
Instructions
Sift together the flour cocoa powder, and baking soda into a bowl and set aside.
In a bowl of a stand mixer fitted with the paddle attachment, beat together the butter, sugar, salt and vanilla until lightened, about 4 minutes. Add the dry ingredients and grated chocolate; mix just to combine.
Form the dough into two round logs, wrap in plastic wrap and freeze until firm (approximately 1 hour) . Slice into ¼" rounds. Place on parchment lined baking sheets and sprinkle lightly with sugar.
Bake at 350 degrees until firm, 10 -12 minutes. Remove to a wire rack to cool. Store in an airtight container for up to two weeks.
*Do not use Dutch processed cocoa, as the Dutch-processed cocoa has been treated with an alkalizing agent that heightens the color but gives it a milder flavor.
Note: You can process the chocolate in a food processor instead of grating.
Adapted from Miette Cookbook