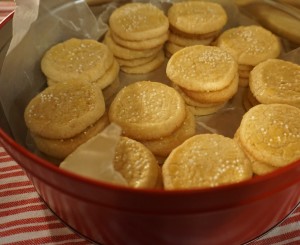 Traditional, buttery French cookies that are named for their sandy texture (sable means sand).  Every bakery in France makes them.  There are two ways to make these cookies.  You can roll them and cut out with your desired shaped cookie cutter, or you can form the dough into two logs (my preferred method), freeze, slice, and bake.  These delicate, crumbly cookies come from France's Normandy region and are delicious plain, sprinkled with sanding sugar or sprinkles, dipped in chocolate, or sandwiched with fruit jam or ganache.

Classic French Sables
Prep time:
Cook time:
Total time:
Serves:
Approx. 3 dozen cookies
Ingredients
3 large egg yolks, at room temperature, separated
2 teaspoons pure vanilla extract
2 cups all-purpose flour
⅔ cup sugar
¼ teaspoon salt
12 tablespoons unsalted butter, cold, cut into tablespoons
Instructions
Stir two of the egg yolks and the vanilla together in a small bowl with a fork. Set aside the third egg yolk.
Process the flour, sugar, and salt in a food processor for 10 seconds. Add the cold butter to the flour mixture and process until it resembles coarse meal, 20 - 30 seconds. With the machine running, add the yolk mixture and process for 5 seconds. Scrape the bowl, then pulse just until the liquid is evenly absorbed, about 10 times.
Remove the dough and place it on a work surface. Work the dough with your hands just until you can form it into a mass. Divide the dough in half and shape either into a disk if you are rolling the cookies, or a log if you plan on slicing them. Refrigerate the dough until well chilled, 2 hours; if making logs, freeze the dough for 2 - 4 hours.
To prepare the cookies, either roll ¼" thick, or slice the logs into ¼" slices. Preheat oven to 350 degrees. Line baking sheets with parchment paper. Add a drop of water to the remaining egg yolk and stir with a fork. Using a pastry brush, glaze the top of each cookie with the egg glaze and sprinkle with either sanding sugar or sprinkles of your choice (you do not have to sprinkle anything on after you've glazed the cookie with the egg wash). Bake until firm and golden, about 11 minutes.