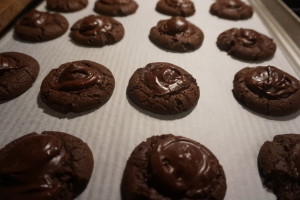 I am a cherry fanatic!  I could go off on a major rant about all the things cherry that I love, but I'll spare you that rant!  Let's just say, if there are cherries involved, I'm all in!  I make this Chocolate Cherry Cookie once a year at Christmas time, and it's my favorite Chrismas cookie. What's unique about this cookie is that you shape the cookie, top with a cherry, and cover in a fudgy icing which then gets baked – AFTER the icing is placed on the cookie.  It works!
This recipe comes from Better Homes and Gardens and dates back to 1981. BH&G claims that this cookie is one of their all-time favorites among readers and food editors.  I have not made any changes to the original recipe. There is no way to improve upon this recipe!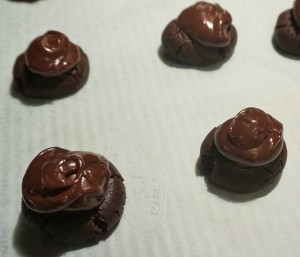 Chocolate Cherry Cookies
Prep time:
Cook time:
Total time:
Ingredients
1½ cups all-purpose flour
½ cup unsweetened cocoa powder
½ cup sweet, unsalted butter, softened (one stick)
1 cup sugar
¼ teaspoon baking powder
¼ teaspoon baking soda
¼ teaspoon salt
1 egg
1½ teaspoons vanilla extract
48 maraschino cherries
1 cup semisweet chocolate chips
½ cup sweetened condensed milk
4 teaspoons cherry juice
Instructions
Preheat oven to 350 degrees. In a bowl, combine flour, cocoa powder, baking powder, baking soda, and salt. Set aside. In a large mixing bowl, beat butter with sugar with an electric mixer until light and fluffy, about 1 minute. Beat in egg and vanilla. Gradually beat in flour mixture, being careful not to overmix.
Shape dough into 1" balls and place about 2" apart on an ungreased cookie sheet. Make an indentation in the center of each ball with your thumb.
Drain cherries, reserving juice for the icing. Half any large cherries. Place a whole or half cherry in the center of each cookie.
For frosting: In a small saucepan, combine chocolate and condensed milk. Heat until chocolate is melted and stir until mixture is smooth (this step can also be done in a microwave oven, if desired). Remove from heat and stir in 4 teaspoons of the reserved cherry juice.
Spoon about 1 teaspoon frosting over each cherry. Bake at 350 degrees for 10 minutes or until edges are firm. Cool on wire racks.