I have favorite cookies to make and favorite cookies to eat.   This cookie definitely falls into the favorite cookies to eat category! This recipe differs from others in that it allows the taste of the two star ingredients – oatmeal and raisins – to shine. Everything else is just a subtle accompaniment. One thing that makes an amazing difference in the final product of this particular recipe is the use of warm, spicy-sweet, freshly ground nutmeg instead of nutmeg power from the can or jar.  I believe the use of freshly grated nutmeg is what puts this cookie above the rest!
The flavor of ground, store-bought nutmeg deteriorates very quickly, whereas if you purchase the whole nuts, they store indefinitely.    Store whole nutmeg in an airtight container, in a cool, dry area away from direct sunlight.  When you need a little nutmeg, just run the nut on a Microplane grater and put the rest away!  It's just too easy a step to avoid. You can use ground nutmeg in this recipe.  I would in a pinch, but I suggest you add whole nutmegs and a grater to your shopping list!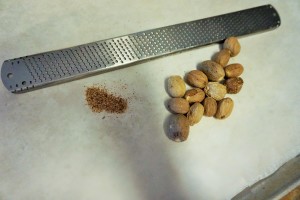 The hard brown seed is from the tropical evergreen nutmeg tree that is indigenous to the Indonesian Islands and is also grown in the Caribbean. The trees take between 7 to 10 years to produce their first nuts, and they don't reach full potential until after 20 years!  At one time, nutmeg was considered one of the most valuable spices.  Legend has it that several hundred years ago in England, a few nutmeg nuts could be sold for enough money to enable financial independence for life.
Oatmeal Raisin Cookies
Prep time:
Cook time:
Total time:
Serves:
2 to 3 dozen depending on size
Old-fashioned, buttery, chewy Oatmeal Raisin Cookies with a hint of nutmeg and cinnamon.
Ingredients
2 sticks unsalted butter, at room temperature
¾ cup granulated sugar
1 cup light brown sugar
2 large eggs
1¾ cups all-purpose flour
1¾ cups old fashioned oats, not instant, not quick cooking
1 teaspoon baking soda
1 teaspoon salt
¼ teaspoon freshly grated nutmeg
¾ teaspoon ground cinnamon
1½ cups raisins
Instructions
Place butter and both sugars into a bowl and beat with an electric mixer for 4-5 minutes, until light and fluffy. Add the eggs, one at a time, and beat for an additional 2 minutes. In a separate bowl, combine the flour, oats, baking soda, salt, nutmeg, and cinnamon. Stir with a wooden spoon or whisk and then add raisins and stir again. On low speed, add the flour mixture to the butter mixture and mix only until combined. Do not overmix at this point. It's best to take the mixer out and finish the mixing by hand with a wooden spoon so as not to overmix.
Wrap the dough in plastic wrap and refrigerate for 1 to 2 hours. At this point, you can keep the dough in the refrigerator for up to one week.
When ready to bake, preheat the oven to 350 degrees; line a baking sheet with parchment paper and drop the cookies onto the baking sheet with a medium sized cookie scoop, leaving 3" between cookies. Bake for 15 minutes or until the edges or lightly browned and the middle is still a little lighter in color than the edges. Cool for a minute on the sheets and transfer to a wire rack to finish cooling.
The cookies will store at room temperature in a glass jar or plastic container for 3 days. Note: This cookie dough freezes well. I scoop out the dough, freeze it, and then wrap in plastic wrap, layer between waxed paper, and place into a freezer storage container. This way, you can pull out only what you want to bake and eat. Recipe adapted from Flour Bakery and Cafe