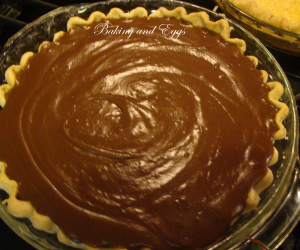 This rich, velvety chocolate cream filling pairs perfectly with my sweet butter crust!  If you don't have time to make a homemade pie crust, a store-bought crust will work too.  Serve each slice with a dollop of whipped cream.  I have served this filling in a pre-made Oreo crust and the results were DIVINE!  This chocolate pie will definitely become a family favorite!
Recipe:
3 squares (1 ounce each) unsweetened baking chocolate
3 cups whole milk (divided)
1 1/3 cups sugar
3 tablespoons flour
3 tablespoons cornstarch
1/2 teaspoon salt
3 egg yolks
3 tablespoons butter
1 1/2 teaspoons vanilla extract
Pre-bake a 9″ pie crust and cool.   My Sweet Butter Crust recipe can be found at http://bakingandeggs.com/category/recipes/pies/.  Combine chocolate and 2 cups of milk in a medium saucepan.  Cook over medium heat stirring constantly until mixture just comes to a boil.  Remove from heat and set aside.
Stir together sugar, flour, cornstarch, and salt in a medium bowl.  In another bowl, whisk 1 cup of milk into egg yolks and stir into sugar/flour mixture.  Gradually add this mixture to the chocolate mixture. Cook over medium heat whisking constantly until mixture comes to a boil.  Boil and stir for one minute. Removed from heat and add vanilla and butter.  Stir and pour into pre-baked pie shell.  Press plastic wrap directly onto the surface of pie to prevent a skin from forming.  Cool and refrigerate until well chilled.