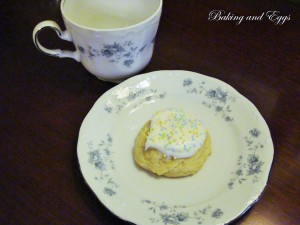 This traditional old world Italian cookie is commonly presented at Easter and Christmas.   This is a tender, buttery, cake-like cookie that is topped with a rich vanilla buttercream icing and then sprinkled with sprinkles of the season – fit for a queen!  These cookies are very easy to make.  The use of grated orange or lemon zest is optional and will not affect the outcome of the cookie if left out of the recipe.  Give these easy little gems a try … your friends and family will be very impressed.
Italian Ricotta Easter Cookies
1/2 lb (2 sticks) unsalted butter at room temperature (never margarine)
2 cups sugar
15 oz. container whole milk Ricotta cheese
2 large eggs
2 tsp. vanilla
Grated rind of 1/2 orange or lemon (optional)
4 1/2 cups flour
1 tsp. baking powder
1 tsp. baking soda
1/2 tsp. salt
I like to gather all my ingredients before I begin.  Here, I've measured my flour, baking powder, baking soda, salt and set aside; grated a lemon and set aside; measured wet ingredients and set aside.  When giving recipes, I try to list the ingredients in the order that they will be mixed.
With an electric mixer, cream butter until light and fluffy (about 1 minute); add sugar and continue mixing until blended.  Add eggs, one at a time, and mix only until blended; add ricotta, vanilla, and lemon or orange zest, mixing only until blended.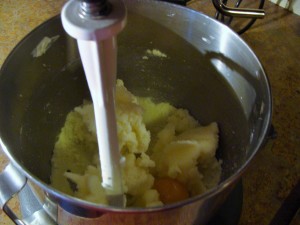 Add flour, baking power, baking soda, and salt to the butter and mix only until blended.  Do not overmix.  Baking and Eggs Tip:  The final stage of making cookie dough or cake batter usually involves adding flour to wet ingredients. When the flour is added to liquids and mixed in, the gluten in the flour starts to develop; this is what gives your cookies and cakes their structure.  Gluten can make baked goods tough if there is too much of it in the dough/batter, and excessive mixing of the dough can develop the gluten to this point.  This is also why it is important to accurately measure flour. Do not tap flour down, but rather, gently spoon flour into measuring cup and level with the flat side of a butter knife.  When a recipe instructs you not to overmix, you should just do the minimum amount of mixing necessary to make a uniform dough.  A good rule of thumb is to stop mixing when no streaks of flour remain in your dough.
Drop about a teaspoon of dough on ungreased baking sheet about 2″ apart.  I like to use a medium size cookie scoop for uniformity.  I never bake directly on a cookie sheet.  I always use parchment paper which gives a nice uniform appearance to cookies, there is no problem with sticking, and clean up is a cinch!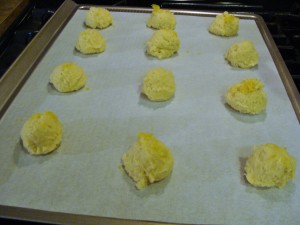 Bake at 350 degrees approximately 10 minutes or until edges are lightly browned.  Cool, frost and add sprinkles before icing sets.
Frosting
4 cups confectionery sugar
1/2 cup (1 stick) sweet, unsalted butter at room temperature
6 Tablespoons milk or half and half
2 tsp. vanilla
Add all ingredients together and mix until creamy.
Baking and Eggs Tip:  I do not ice these cookies until I am ready to serve them and I only ice as many as I want to serve.  They keep very well in a pastic container until you are ready to add icing and sprinkles.